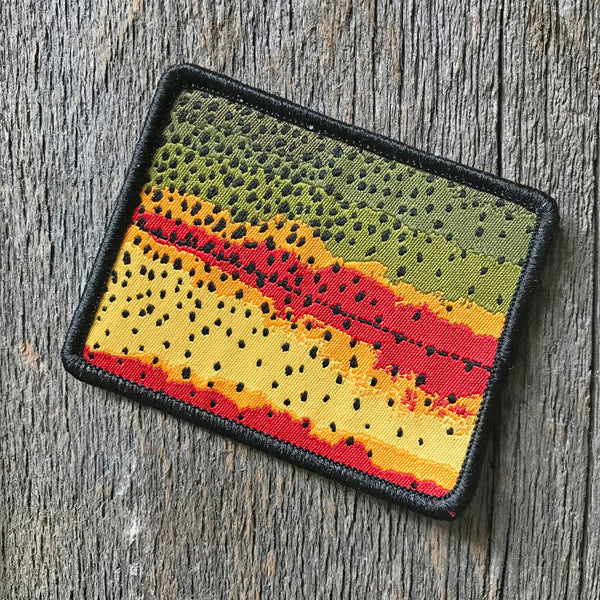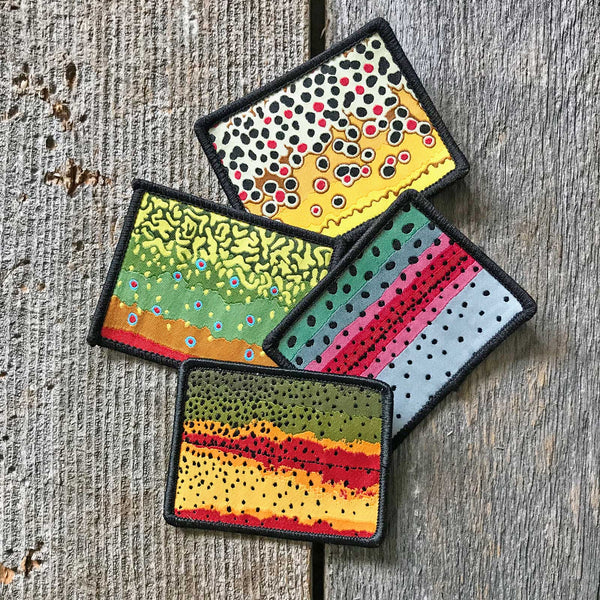 Rep your favorite Wyoming trout with this cutthroat trout pattern Wyoming shaped patch! Put it on your fishing pack, jacket, your backpack, your own hat with an iron or heat press!
Deets: Patch comes with heat seal baking for iron on or heat press application (can also be sewn on).
Dimensions approx. 3" X 2.3".
(please note: this is not an exact rectangle but this is the actual shape of Wyoming!!)
ABOUT THE CUTTHROAT TROUT:
Named official state fish of Wyoming in 1987
The Cutthroat (Oncorhynchus clarki) deserves to be state fish, as it is the only trout that is native (indigenous) to Wyoming. It has a distinctive crimson slash on either side of the throat, below the lower jaw. Most cutthroat are not found in their original range due to competition from the non-natives, over-fishing, and habitat loss. 
Wyoming has 4 subspecies of Cutthroat includiing the Colorado River, Bonneville (Bear River), the Snake River and Yellowstone.
Application Instructions:
Basic DIY at home instructions.
1. Set the iron to "cotton" or "high heat" on the temperature setting.
2. Lay the garment flat (on an ironing board).
3. Preheat the garment where the patch will be attached. You should protect your garment by putting an inexpensive cloth, sheet, or pillowcase between the iron and the garment. Then, press the heated iron firmly down on top of that cloth for 10 seconds.
4. Place the patch on the pre-heated spot. Put the cloth, sheet or pillowcase on top of the embroidered part of the patch so you don't burn the embroidery thread. Press firmly on the iron for 15-20 seconds.
5. If possible, repeat this step through the reverse side of the garment. Be sure to use your thin cloth, sheet or pillowcase so you don't burn the garment.
6. This is important: Your glue will be hot and liquified but it will cool fast and harden soon. Be very careful to not let the patch move around on the garment before the glue hardens. If it moves around, the bond will not be as secure.
7. Set your garment aside and let it cool back down to room temperature.
Shipping
Returns Policy
You may return most new, unworn items within 30 days of delivery for a full refund.
If the return is a result of our error (you received the wrong size or defective item, etc.) we'll pay the return shipping costs. Although you should expect to receive your refund within four weeks of handing your package over to the return shipper (in many cases refunds happen much more quickly).  This includes the transit time for us to receive your return from the shipper (5 to 10 business days), return processing once we receive the item (3 to 5 business days), and the time it takes your bank to process our refund request (5 to 10 business days).
How to return/exchange an item you bought from us
If you created an account with us during checkout, simply login to your account, view the order using the "Complete Orders" link under the My Account menu and click the Return Item(s) button. We'll notify you via email of your refund once we've received and processed the returned item.
How to return/exchange an item that someone else bought for you from us
If you're returning or exchanging an item that someone else bought for you, please ship the item to us with the original packing slip, or a note with the original order number, or if you don't have either just a note with the name of the person who purchased the product for you.  If you don't have any of this information please contact us directly before returning your item.
Return/exchange address
Returns and exchanges should be addressed to the following address:
Fly Fish Wyoming
171 N. Main Street, Suite H
Sheridan, Wyoming 82801
We recommend that if you need to return an item to us (for a refund or an exchange) that you use a trackable shipping method such as UPS or FedEx.  Since we're not responsible for items lost or damaged in transit we feel it's important to be able to track packages accurately.
Shipping Policy - Apparel, Hats, Stickers
We strive to ship all apparel and product orders within 2-3 business days. We currently ship to addresses in the United States and around the globe.  If you have issues with your order, please email us at orders@flyfishwyo.com for assistance.  Shipping to Hawaii and Alaska may incur a slightly higher shipping charge, which will be noted when you enter your shipping address during checkout.
Local Pickup
Local pickup is available for FREE! Please check this option during checkout. Typically the order is available the next business day for pickup at the Bighorn Design/Surf Wyoming retail desk at 171 N. Main St.
Reviews
Customer Reviews
04/20/2021
Paul S.

United States
Great service
Patch was delivered on time Great quality
05/11/2021
Fly Fish Wyoming
thank you so much for your review! So glad you are enjoying your patch!
03/08/2021
joe e.

United States
great patch
awesome quick ship
03/15/2021
Fly Fish Wyoming
Thank you so much for your purchase and review!
02/20/2021
Tierney M.

United States
Love These!!!!!!
Bought these for my boyfriends disc golf bag that has a Velcro strip. And he absolutely LOVED them! Thank you so much. Killed it!
03/15/2021
Fly Fish Wyoming
That's a great use for this, had never thought of using it in this way so that's awesome to hear!
01/18/2021
Stuart M.

United States
Rainbow Trout Patch
The patch has nice colors and pattern. Unfortunately it doesn't work as stated. When I tried to iron on the patch the black threads on the border of the patch melted before the iron on glue on the back would adhere to my garment. If this is an iron on patch the threads shouldn't melt. Save your money.
03/15/2021
Fly Fish Wyoming
We have put on dozens of these patches to hats without threads melting. How are you adhering them? Did you use a protective sheet over the patch (teflon or other)? You cannot put an iron directly on these or it will melt. How high was your temperature set? We don't sell faulty products that we haven't used in this purpose ourselves. We'd be happy to send you a replacement to try with instructions on adhering without melting. Please message us if you'd like us to.
12/20/2020
Joan Q.

United States
Brown trout patch
Beautiful patch!
03/15/2021
Fly Fish Wyoming
Thank you for your kind review!